​
I've had some feedback from Spanish botanists about the naming of the larger species. The names comply with the RHS Botanical list, which was last updated in 2018, but it seems there has been much lumping and renaming in the last few years, and conflict between different taxonomists, largely because of more observation in the wild leading to more understanding of variation within a single species. From a horticultural standpoint, plants can look very different, whereas botanically they may turn out to be just different morphs of the same species. No doubt as more DNA analysis is used, there will be further name changes. This will pose problems for nurseries selling bulbs as it is not helpful to the customer to offer distinctly different (to the eye) plants under a single name, and is something that will need to be addressed.
I do not have the knowledge to make decisions about naming, and am using the names I was given along with the bulbs, so if you would like to know the names that have been suggested as alternatives, I list them here and in brackets on the list. If you are buying for a specific species/subspecies, I cannot give you a 100% definitive identification. It would be great if all the taxonomists could come to an agreement, but that seems very unlikely in the near future, so I am offering the larger species as seen in the photo. What you see is what you will get. Even if the names are unclear, they still make wonderful garden plants.
N. bicolor = N. pseudonarcissus subsp pseudonarcissus
N. hispanicus subsp. bujei = N. confusus
N. nobilis var. leonensis = N. pseudonarcissus
N. nobilis var. nobilis = N. pseudonarcissus
N. pseudonarcissus = N. bicolor
N. varduliensis = N. pseudonarcissus
PRICE PER BULB, unless otherwise stated
Species with large flowers with long slender, usually straight, corona. This clone is all yellow, deflexed. flowers at about 35cm high
Superb in our garden this spring. Large flowers on 30cm stems with elegantly twisted white perianth and long golden corona with a wide flange.
Narcissus cantabricus laciniatus
Much coveted form of cantabricus. Pure white, small hoops with toothed rim to the corona.
Narcissus hedraeanthus luteolentus 4290
Small hoop petticoat with lemon yellow flowers to about 7cm high. The perianth segments are relatively wide for a hoop petticoat.
Narcissus nobilis var. leonensis 2
Fabulous strongly bicoloured flowers, the glowing golden corona merging into the white perianth as a 'halo'. Stunning in the garden. Shorter than the Primrose Warburg clone above.
Flowers with long slender, usually straight, corona. All yellow dwarf clone.
Narcissus bulbocodium subsp. praecox var. paucinervis RRW 84.18
Upward facing pale yellow hoop petticoats on short stems.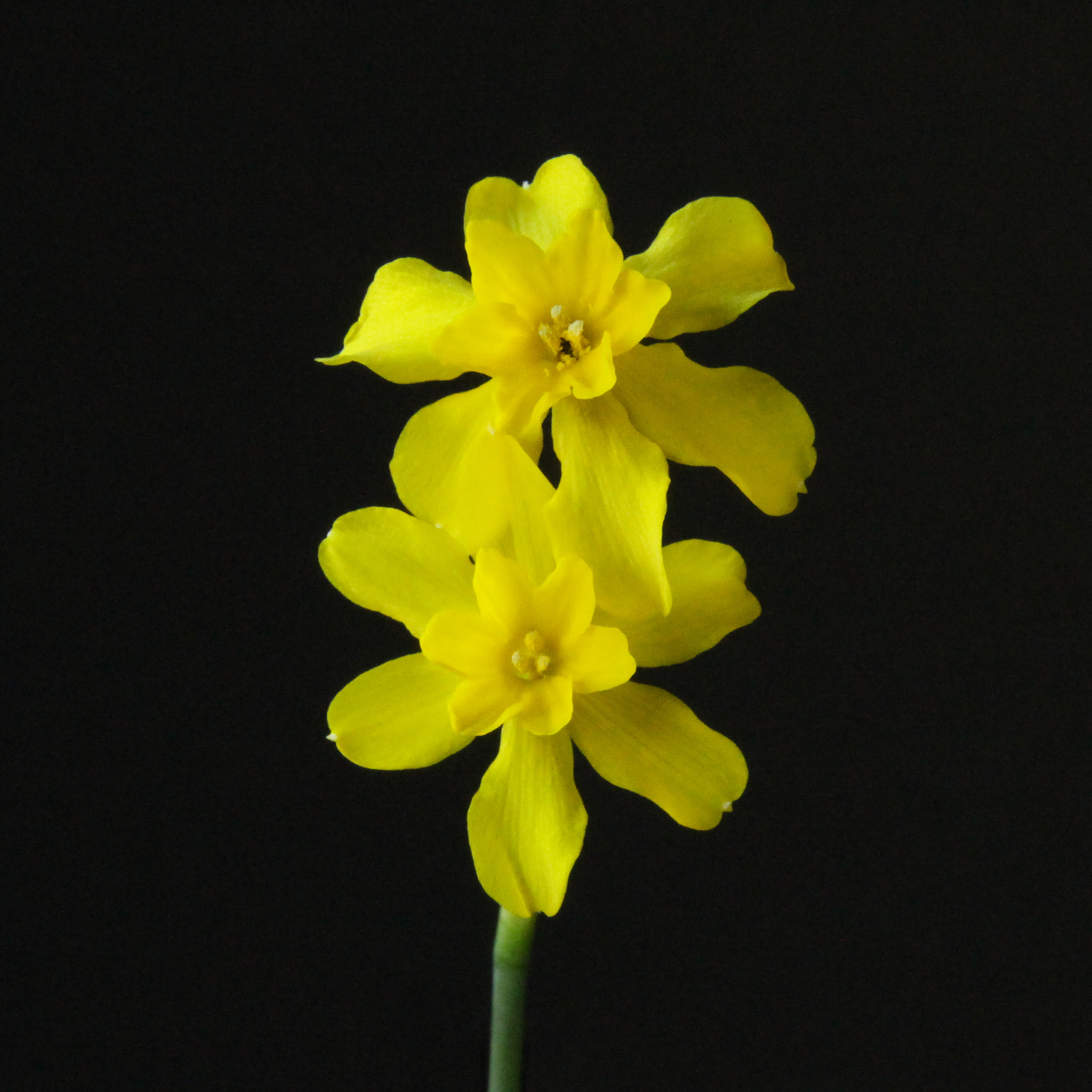 Narcissus cordubensis/cerrolazae
Very fragrant species to 25cm tall with several golden flowers per stem. Corona is distinctly crenate.
Narcissus hispanicus subsp. bujei
Golden yellow trumpet species flowering at about 215-18cm high with small flowers in proportion.
Narcissus nobilis var. nobilis
Smaller, shorter forms of this beautiful bicolour from higher altitude near Tarna.
Species with large flowers with long slender, usually straight, corona. This clone has large, bicoloured flowers at about 35cm high
Narcissus cantabricus 3964
Pure white hoops, early flowering. Mixed seedlings, all pristine white.
Small species to 15cm high with 1-3 golden flowers per stem. Similar to N. rupicola, but the anthers are visible in the mouth of the tube. Scented.
Trumpet species - very unusual in that it often has 2 flowers per stem. White perianth and butter yellow corona, becoming paler at base. Flowers at about 30cm high.
Very late flowering, this form from Luchon, France has perfectly formed small flowers with an amazing scent.
Narcissus cantabricus cantabricus
Species with hoop petticoats in pure white. Vigorous form from Rannveig Wallis.
Smallish yellow trumpet species, large flowers on short stems
Narcissus nobilis var. leonensis 1
Large dramatic bicolor, golden trumpet & tube. This clone originates in the Primrose Warburg collection.
Narcissus pseudonarcissus
Form from Auvergne, France. White perianth, small lemon corona.